Curriculum vitae
Prof. Dr. med. Christian P. Speer, FRCPE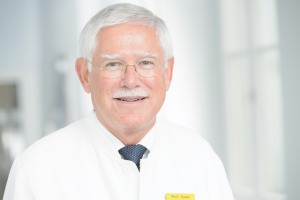 Prof. Dr. Christian P. Speer, FRCPE wurde in Kassel geboren und studierte in Göttingen Humanmedizin. Nach der Promotion begann er seine Facharztausbildung an der Universitäts-Kinderklinik Göttingen, die durch einen knapp zweijährigen Forschungsaufenthalt am National Jewish Hospital and Research Center in Denver, USA unterbrochen wurde. 1986 wurde er zum klinischen Oberarzt ernannt und habilitierte sich im gleichen Jahr. Kurze Zeit später erhielt er eine Professur für Kinderheilkunde. 1994 wurde er zum ärztlichen Direktor der Abteilung Neonatologie der Universitäts-Kinderklinik Tübingen berufen und 1996 zum Fellow of the Royal College of Physicians, Edinburgh, gewählt. 1999 übernahm er den Lehrstuhl für Kinderheilkunde an der Universität Würzburg.
Nach grundlegenden Arbeiten zur Surfactantbehandlung des neonatalen Atemnotsyndroms befasst sich sein momentaner wissenschaftlicher Schwerpunkt mit der Rolle von prä- und postnatalen Entzündungsmechanismen in der Pathogenese der bronchopulmonalen Dysplasie. Er hat mehr als 300 wissenschaftliche Arbeiten in internationalen und nationalen Fachzeitschriften publiziert und ist Autor mehrerer Buchkapitel zu akuten und chronischen Lungenerkrankungen Früh- und Neugeborener. Weiterhin ist er Mitherausgeber des Lehrbuchs "Speer CP, Gahr M, Dötsch J: Pädiatrie, Springer-Verlag, Berlin, Heidelberg, New York, 5. Auflage, 2019". Eine Vielzahl weiterer Aktivitäten beschreiben sein wissenschaftliches Engagement: er ist "Editor-in-Chief" von Neonatology (früher: Biology of the Neonate), Mitherausgeber der "Zeitschrift für Geburtshilfe und Neonatologie" und arbeitet in zahlreichen Herausgebergremien von internationalen wissenschaftlichen Zeitschriften und wissenschaftlichen Fachgesellschaften bzw. Forschungskommissionen mit.
Er erhielt eine Reihe internationaler Auszeichnungen, so wurde er 2004 zum "Geoffrey Thorburn Visiting Professor" der "Perinatal Society of Australia and New Zealand" ernannt; 2005 gab er die "James Hutchison's Memorial Lecture" in Hong Kong. 2006 wurde er von der "European Association of Perinatal Medicine" mit dem "Chiesi Award for Excellence in Neonatology" ausgezeichnet. Von 2010 – 2012 war er Präsident der "European Association of Perinatal Medicine". Im Jahr 2013 wurde er für seine international anerkannten Beiträge zur akademischen Kinderheilkunde von der "American Pediatric Society" zum "Honorary Member" gewählt, außerdem wurde er zum Ehrenmitglied der "Russian Association of Perinatal Medicine" ernannt. 2016 hielt er die "John J. Fangman Lecture" im Children's Hospital Minneapolis, University of Minnesota/USA, 2018 die "Art Hardy Memorial Lecture" an der Augusta University, Georgia, USA sowie 2019 die "David Harvey Lecture" im Imperial College London, UK.
Er ist ein gefragter Referent auf zahlreichen Kongressen und Symposien in Europa, Nord- und Südamerika, Asien, Australien, dem Mittleren Osten und Süd-Afrika. Darüber hinaus organisiert er seit 1996 regelmäßig das internationale Symposium "Recent Advances in Neonatal Medicine", das sich zum größten klinisch-wissenschaftlichen Forum außerhalb der USA entwickelt hat.
Im Frühjahr 2016 organisierte er zusammen mit Prof. Bo Sun, Shanghai zum ersten Mal den internationalen Kongress "The Neonate – An International Symposium for Asia" in Shanghai, China und 2018 die zweite Ausgabe.
November 2019